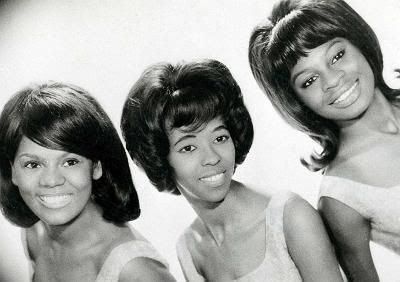 The Opals: (from left) Myra Tillotson, Juanita Tucker and Rosie Addison
The Opals were one of the great Chicago girl groups. And while only three singles were released under the Opals moniker they can be heard on songs by Major Lance, Otis Leavill, Betty Everett and Walter Jackson. Next to The Fascinations (who I'll post about soon) the Opals are one of my favorite of the many Curtis Mayfield related groups.
Hailing from East Chicago, IN, they were discovered in 1962 by The Dells while performing in Gary. The seasoned group (together since the early fifties), by Mickey McGill's account, "took them as little kids and showed them how to sing and everything." Most importantly, The Dells brought the girls to Vee-Jay where they sang back-up on several hits -- most notably Betty Everett's smash "The Shoop Shoop Song." Eventually they were presented to Chicago A&R man Carl Davis, who would produce their recordings for OKeh.
Their first single was a
Billy Butler
authored tune called "Does it Matter."
Does It Matter
b/w
Tender Lover
But the next release, in the summer of 1964, "You Can't Hurt Me No More," was their first sizable local hit and a perfect showcase for the mid-sixties OKeh sound-- produced by Carl Davis, authored by Curtis Mayfield and arranged by Johnny Pate. It's a beauty.
You Can't Hurt Me No More
b/w
You're Gonna Be Sorry
Their final single was an old R&B number written and recorded by the Dells in the fifties called "Restless Days," backed with a Mayfield song called "I'm So Afraid." "Afraid" managed to chart, but The Opals broke up soon after.
Restless Days
I'm So Afraid
A few years ago, around the release of the film Dream Girls, Dave Hoekstra of the Sun-Times, traveled with Rosie Addison to Carl Davis' home to talk about the OKeh days. Despite some clunky comparisons to Jennifer Hudson ("Like Hudson, the Opals grew up in church"), the piece is pretty charming. Read it
here
.