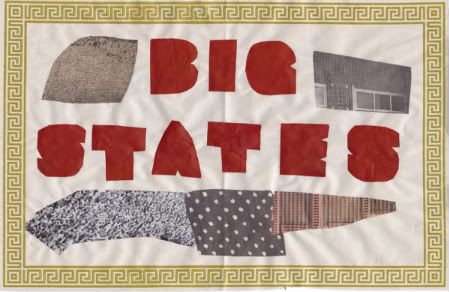 Each month we'll be posting four selections from each Big States contributor. Starting NOW.
JOE
----
FEELINGS - * L--
from
Especially for You
Vintage Portland indie rock, ca. the tail end of the mid-90's. Featuring Ralf Youtz (original drummer for Built To Spill), who sings and plays guitar, and Tim Seiwerratch's (credited as the "microphonist") drunken, wild-eyed yelping.
PERRY & THE HARMONICS - DO THE MONKEY WITH JAMES
Chicago should-be mod classic. The singer, Ed Townsend, would later co-author Marvin Gaye's "Let's Get it On." Ca. mid-60's.
RIDICULOUS TRIO - NO FUN
Sax + tuba cover of classic Stooges burner.
NOW TIME DELEGATION - HANDLE ME WITH CARE
From Tim Kerr's punk/soul supergroup's lone record. A cover of the King Floyd classic, Lisa Kekaula's vocal adds an element of sultry desperation not found in the
original
.
D.
----
DIRTY PROJECTORS - TWO YOUNG SHEEPS
from the
New Attitude EP
Clawing its way out from underneath peaceful, sleepy piles of afro-pop keyboard groove is David Longstreth's voice, carving into the live space with his serrated melisma: "Say yuh-aaaaaaaaaa-uhhhh!" The sheer hopelessness of replicating Longstreth's squawks (and therefore participating in the call and response) is the prime driver of the idea, and comic acknowledgement is implicit in the first real lyric. "Precious reciprocity," Longstreth howls. The live crowd's limp reactions to Longstreth's exhortations are awesome. "Say, 'say yeah,'" Longstreth eventually tells us. I am a strong proponent of performers fucking around with their audiences, and Longstreth, pop music's premiere deconstructionist at the moment, is the perfect unreliable narrator.
SCOTT WALKER - TRACK THREE
from
Climate of Hunter
"My music has really always been the sound of nightmares," Scott Walker says in an interview in Stephen Kijak's new documentary on the avant-gardist crooner. "Everything is disproportionate, larger than life." So it is with "Track Three," wherein each element is jarring and fractured. Everything seems sudden, out of place—from the heavily gated snare hits to the strained harmonies, the odd, discordant guitar shredding (which gives way to synth strings leaning hard on an unforgiving diminished chord) to the piercing digital 80s production. The free-associative lyrics are horrific, a pastiche of images flashing through Walker's supremely twisted dreamscape. Ostensibly a pop song, Walker has no problem making the verses impenetrable: "Delayed in the headlong / resembled to breaking-point / I swear you never slept at night / when the growing is slow."
ARTHUR RUSSELL - YOUR MOTION SAYS
from
Love is Overtaking Me
Somewhere between the sweet vulnerability of "You Can Make Me Feel Bad if You Want To" and the uninhibited disco of "Is It All Over My Face" exists a place of perfect danceable compromise; Arthur Russell finds it here.
SIC ALPS - LOVE IS STRANGE
From
A Long Way Around to a Shortcut
I would be remiss not to include some Siltbreezy stuff from SF as it is currently what is happening in the city (and seemingly on the whole West coast). Thank god I live in Oakland, where I can retain a comfortable detachment from a scene that is so huge and generally obnoxious that it seems destined to either be the next Seattle-in-the-90s situation or to implode in hideous critical backlash (more likely). These garage-y lo-fi bands are seriously a dime a dozen around here right now (Thee Oh Sees, Girls, Nodzzz, the unbearable Ty Segall, etc.) but Sic Alps are the ones with the most legitimate pop chops. "Love is Strange" is a great tune.
JOSH
----
JOSEPHINE TAYLOR - DEPEND ON ME
Chicago soul songstress. She had a local hit in '66 called "What is Love" and released a number of other singles that failed to chart (like this one). The combo of the guitar sound and Taylor's timbre is alchemy.
NICK DRAKE - BLUES RUN THE GAME
from
Tanworth in Arden 1967/68
There's something really disarming in hearing a voice so familiar through the gauze and warble of a home recording. The recording betrays the time between then and now, but is also so intimate and present, as you can tell the performance took place in a bedroom, or a living room or wherever, but certainly not a studio, and probably alone. It, or he, is both closer and farther. For me, it's hard to shake the supremacy of a recording as record of an event, particularly an event like this one.
THE STONES - GUNNER HO
(not
those
Stones)
Last year I went through about six months of exclusively listening to boomer rock standbys-- Van Morrison, Dylan, Neil Young, etc.-- and figured it was only a matter of time before Happy Sad would be on heavy rotation and I'd be explaining how I finally
got
Mountain Jam
. But then I got an ipod and the only thing that can really compete with the din and doldrums of my morning bus ride is a bratty punk song. This song is super catchy.
Dunedin
did it right.
SAMANTHA BUMGARNER - WORRIED BLUES
via
archive.org
From 1924. The first recorded female country singer. I've never heard anything quite like it.
You can download all the songs
here
.